Discussion Starter
·
#1
·
If he can stop crashing, he could run with the leaders next season...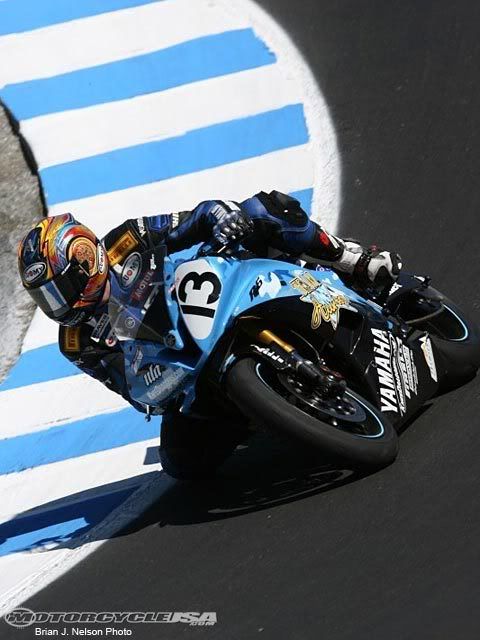 Team M4 EMGO Suzuki Signs Cory West

Nov 01, 2007

From a press release issued by Team Hammer, Inc.

CORY WEST SIGNS WITH TEAM M4 EMGO SUZUKI

Cory West has signed a 2008-season contract with Team Hammer, Inc., which races as Team M4 EMGO Suzuki in the AMA National Series. West will race in the AMA Supersport class.

"It's my first time racing for a big team and I'm really excited about it," said West. "I got a sneak peak at the MOTO-ST race of how the organization works. It will be great racing with a professional, first-class crew. I enjoy riding 600s and think it's a good class for me. I have raced against the team's bikes before so I know they are really competitive from trying to beat them in the past. I'm excited to see what I can do next year."

West's family has a long history in professional motorcycle racing. A third-generation racer, West, 23, first raced in dirt track and has competed as a privateer in the AMA Series in recent years. He was named AMA Superbike Rookie of the Year in 2004. West finished the 2007 AMA season ninth in Formula Xtreme points, his first finish inside the top 10 in an AMA Championship. The Eureka Springs, Arkansas, native is known for his aggressive style on the track. His competition number is 13.

On October 20, West teamed with Chris Ulrich and Gary Mason on a Suzuki SV1000S entered by Team Hammer, Inc. in the 8-Hours of Daytona MOTO-ST event, under the Roadracingworld.com banner. The trio won the race, with West riding the final stint.

"We're really looking forward to working with Cory next year," said M4 EMGO Suzuki Crew Chief Keith Perry. "We've watched him have some good moments out there, some good rides that were on the cusp of being exceptional races for him. Our goal is to help him raise it to the next level, to run in the top five on our Suzuki GSX-R600. We're going to give him a good bike and work with him and and see how he comes along. He's a down-to-earth kid, with a lot of good qualities about him. He wants to work hard and earn success."

West's contract includes options for the 2009 and 2010 AMA seasons.